Here's the Black-owned food joints you can find at South Beach food Halls
Shopping Black-owned businesses is just one of the many ways you can support the Black community. Many of the businesses got shut down while others barely managed to survive COVID, but what we loved more than anything is the number of new Black-owned businesses that continue to open despite the pandemic. 
We've found a few recently opened Black-owned eateries on Miami Beach that have established their presence at the food halls – Time Out Market (1601 Drexel Ave) and at The Lincoln Eatery (723 Lincoln Ln N)
It's not every day that you find Black-owned businesses on the beach. The rent is too damn high (get it?), but we love to see them break barriers and get some of that tourism money. That's for another conversation since Black-owned businesses are not getting a fair share of the tourism opportunities, but at least we have the handful of Black-owned ones on the Beach to support in the meantime.
Check these out whenever you get a chance to cross over the bridge.
1. Chick'N Jones

Located in the Time Out Market on Miami Beach, Chick'N Jones has you covered with all your chicken cravings. The inspiration for Chick'N Jones comes from Chicken George, a small restaurant chain that operated in Baltimore in the 1980s.
This joint is owned and operated by Black celebrity Chef Amaris Jones, who many know because of her popular South Street restaurant in Midtown back in the 2010s. Amaris is also a former chef to rapper Rick Ross and the inventor of loaded Hot Taco Fries featured on Oprah Winfrey Network.
While here, check out the hot-honey crispy chicken sandwich piled with southern slaw on a brioche bun. Amaris serves her signature chef-driven fried chicken accompanied by fresh kale salad, grilled green tomatoes, and crispy shallots.
2. C Food Shack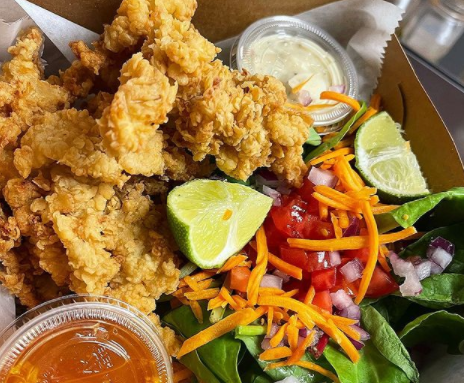 Craving crazy Caribbean Sea Food? C-Food Shack is your destination. Black food entrepreneur and Chef, Laron Culmer created the concept that is now also located at The Lincoln Eatery. With its original location in Nassau, Bahamas, the Miami location is second in the chain and first in the U.S. serving Caribbean seafood. The "C" in C-Food Shack stands for "Culmer" and is also a hidden abbreviation for seafood.
Laron, with her intensive experience at hotel restaurants in the coastal city, including the Hilton and Crowne Plaza, gives you a first-class ticket to the authentic Bahamian culture and Caribbean seafood. Experience the extrinsic taste with some of the famous appetizers served that include Bahamian Conch Salad, Captain Bahamas Surf and Turf Burger, Jalapeño Cheddar Conch Poppers, and Fish in Da Bag. 
Enjoy this Caribbean special drive while strolling the beach. Don't forget to grab the refreshing Pineappleade to cool you down. 
3. Simply Good Pizza
Loaded with good people, good ingredients, and good people, SimplyGoodPizza takes you to pizza heaven and was created by local influencer, Max Pierre. His idea was to start Simply Good Pizza with the idea of fostering advocacy and positively impacting social and environmental issues.
Max is a hospitality veteran who brings food pleasure blended with a goal to help the communities in need. He actively works to promote local entrepreneurship to transform the city, country, and the lives of people.
At Simply Good Pizza, they serve you soul comforting pizzas made with fresh crusts, sauces, cheese, and vegetables that come from local artisans, purveyors, and farmers. The menu has a lot of flavorful pies and traditionally-made pizzas zested with a twist of unique Miami flavors. Going to Simply Good Pizza is "Doing the Right Thing."
This joint is also at The Lincoln Eatery.
4. Cafe des Fleurs
Cafe des Fleurs calls itself the most Instagrammable boutique bakery. Located at The Lincoln Eatery, you can have brunch or celebrate a birthday as you enjoy tasty French treats like croissants mille-feuille, macaroons, french baguettes, and concentric french jams.
The luxurious cafe is the brainchild of Nahomie Jean Louis.