Black Basel: Here's where to view black and Caribbean art during Miami Art Week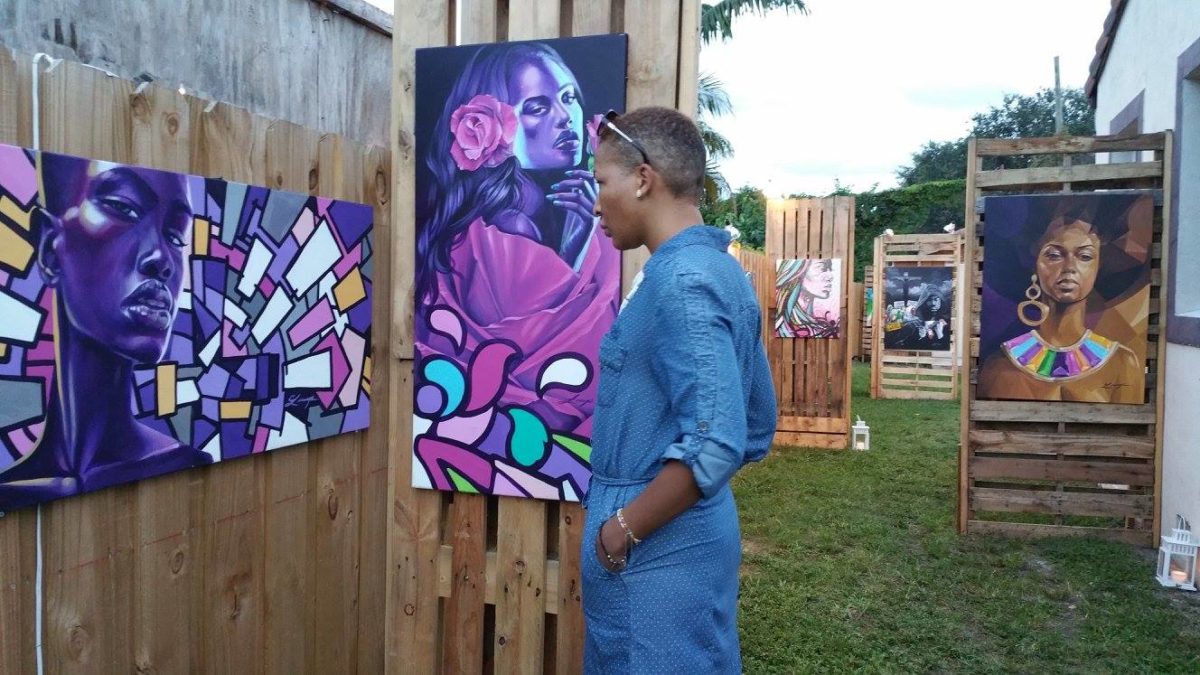 Written by Fabiola Fleuranvil for Miami.com
Representation is important. So is diversity.
If you're looking for artists of color during Art Basel Miami Beach and Miami Art Week, look no further than Miami's historic black neighborhood and the city's Haitian enclave. Overtown has become the hot spot for black and Caribbean art during Miami Art Week,  while Little Haiti showcases a profound collection of talented Haitian artists. This year's collection of black exhibits range from artists celebrating the cultural fabric of the African diaspora to works reflecting today's heightened sociopolitical themes.
Along with Art Africa Miami, Prizm, Art Beat Miami, Soul Basel, Yeelen, Haitian Heritage Museum, and Now Or Neverland Art Fair, a number of Black artists are also on exhibit at satellite fairs including Spectrum Miami, YoungArts and PULSE.
Art Africa Miami
Art Africa has made Overtown its backdrop for seven years, adding diversity to the Miami Art Week lineup
and contributing to the neighborhood's cultural renaissance. The fair expands this year from its usual pop-up at the historic Clyde Killens building with the addition of the Pan African Pavilion at the Plaza of the Historic Lyric Theater.
This year's exhibit, Back To Black: No On/Off Ramps examines the transformational role that art and culture play within marginalized communities and the role of race, class and gender in relation to power in the art world.
Back to Black showcases 25 artists from the U.S, Africa, Europe, Caribbean, and Latin America.
Art Africa Miami calendar:
Dec. 5-10, Art Africa Miami, 920 NW Second Ave., Historic Overtown; ArtAfricaMiamiFair.com
Media & Influencer Preview
Noon-3 p.m. Tuesday, Dec. 5
VIP Opening Night
6-8 p.m. Tuesday, Dec. 5
The Black Party Opening Party
7-11 p.m. Wednesday, Dec. 6
Art Talk + The John Coltrane Documentary screening
6-8:30 p.m. Thursday, Dec. 7
(Gallery opens to the public Noon – 8 p.m.)
Youth Art Insider
4-6 p.m. Friday, Dec. 8
An after school interactive workshop with youth from Overtown
(Gallery opens to the public Noon – 8 p.m.)
Art + Culture panels
Saturday, Dec. 9
(Gallery opens to the public 12PM – 8PM)
Noon – The Local and The Global: Black Aesthetics and the Legitimization Process in Global Contemporary Art
2 p.m. – Centering the Margins: Contemporary Situations and Differences in African Diaspora: Mutations, Migration, Multiculturalism
---
Prizm Art Fair
This year's Prizm Art Fair spans two weeks and makes its home at a pop-up in downtown. Now in its fifth edition, this year's exhibit titled "Universal Belonging" narrates the diasporic experience in widespread geographies across the globe including Iran, Egypt, Nigeria, South Africa, the Caribbean, Europe and U.S. Prizm is one of the most important fairs to showcase  artists of color, like Oakland artist Jared McGriff, known simply as @watercolorbrother on Instagram, who will be making his Miami Art Week debut this year.
Prizm Art Fair calendar:
Dec. 5-17, Prizm Art Fair, 145 E Flagler St., Downtown Miami; PrizmArtFair.com
Prizm Preview
Noon- 4 p.m. Tuesday, Dec. 5
Prizm Preview Opening Dinner
6-8 p.m. Tuesday, Dec. 5
Prizm opens its door for a first look at the Prizm Art Fair and a three-course dinner event presented in partnerships with Barbados Tourism and Mount Gay Rum.
Tickets $150
Prizm General Admission
10 a.m.-6 p.m. Wednesday, Dec. 6
Prizm Perform
5-8 p.m. Thursday, Dec. 7
Full story on Black Basel events available at: http://www.miami.com/things-to-do-in-miami/black-basel-heres-where-to-view-black-and-caribbean-art-during-miami-art-week-176479/